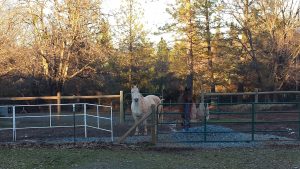 Horses are magnificent creatures and we are lucky that they share our world with us.
Horses came into my life late. I started riding on my 45th birthday and bought my first horse when I was 47.  Chief was an Appaloosa gelding in his late teens.  He was the perfect horse for a beginning rider.  We had five wonderful weeks together before he died suddenly of complications from an intestinal stone.  I was devastated.  But I had been hooked on horses in those weeks and over the next few years horses were to take over my life.
I didn't make as good of a choice on my next horse. Lucky was a ten year old chestnut Morgan mare.  She was way too much horse for me.  That's a polite way of saying I wasn't a good enough rider to make riding her safe for me.  Horseback riding is a very dangerous sport.  When many people think of horses they think of the "put one foot in front of the other" rent string horses at a dude ranch.  Not all horses are like that.  Some horses are firecrackers.  Lucky was one of those.  Even the calmest horse can spook and potentially drop its rider on the ground.