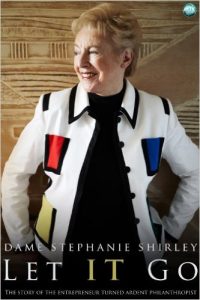 There are only a small number of biographies and memoirs written about women in the STEM (Science, Technology, Engineering and Math) fields.  But there are some, frequently hidden away in obscure corners of Amazon.com.
I am establishing a new section on my website to discuss the books that I have read that tell the history of the contributions of women to Science, Technology, Engineering and Math.  If you would like to recommend a book to be added to this list, please use the Contact Me form.
The first book I am reviewing is  Let IT Go  by Dame Stephanie Shirley.
Dame Stephanie Shirley is a British philanthropist.  Her book Let IT Go is classified on Amazon in the category: Books > Health, Fitness & Dieting > Children's Health > Autism & Asperger's Syndrome  as she raised an autistic son and contributed money to homes for children with autism.  Her book does tell this part of her story.
But the introduction to her TED talk underscores why she belong in this list of books.  "Dame Stephanie Shirley is the most successful tech entrepreneur you never heard of. In the 1960s, she founded a pioneering all-woman software company in the UK, which was ultimately valued at $3 billion, making millionaires of 70 of her team members. "
I'm not sure how I found her book.  In late 2015 I was looking high and low on Amazon.com trying to find any stories about women in computers and stumbled across Let IT Go.
I highly recommend the book.  Before telling the story of her autistic son, Shirley recounts how her family moved from Nazi German to the UK.  And then the book becomes a history of the early days of computer programming.  This history has been largely lost and even those of us who were involved in the early days of computers thought we were so much more isolated than we were.
I began my programming career in 1966.  While I worked with other women programmers, computers were predominately a male field as it is today.  However, because it was a new field, I found less of the usual discrimination against women.  I had no idea that there were so many women programmers around and that there was an entrepreneuring woman who had started a software company in the early 1960s.
If you enjoyed this article, please let me know and share it with others using the buttons below.