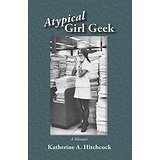 This week's book about women in STEM is Atypical Girl Geek: A Memoir.  In this memoir, Katherine Hitchcock tells the story of her thirty-five year career as a programmer at IBM.
For much of Katherine's career, 1966 to 2001, the name IBM was almost synonymous with computers. Her story provides an inside look at the company that developed the foundations of much of the technological approach that drives computers today.
Katherine began working with computers while still in college. She wasn't very impressed with this stationary machine where you had to hand an operator your computer program and wait for your output to be handed back to you.  Then she saw a demonstration of a terminal that could talk to a distant computer and she saw the possibilities of what computing could become.
One of her first projects was helping to design and build an integrated library system. A new concept that this system was based on was the idea that you only entered a data element once.  This eliminated the problem that many systems of the day had with inconsistent data.  Because random access storage space was so costly in those days, the project had to keep the data stored to an absolute minimum.
Because she worked at IBM, Katherine was introduced early to new computer functionality such as a mouse, bar codes and ATMs. She also saw the value of "floppy disks", forerunners of today's flash drives, which allowed data to be easily moved between computers.
Katherine also talks about her interest in conservation and how she started a computer paper recycling effort at IBM and wrote a program to facilitate carpooling during the gas shortages of the 1970s. Both of these efforts were initially met with rejection by the bureaucracy of the large corporation but Katherine's ingenuity and perseverance made them happen.
One of Katherine's contributions to the growth of computers was her work with printers. She talks about her projects to build interfaces to allow new printers to work with existing computers and to upgrade existing printers to take advantage of new technology.  She gives the history of printers as they moved from line printers to dot matrix printers and on to full page printers which allowed the combination of text, graphics and pictures that we take for granted today.  You will never look at printers the same way after reading these chapters.
This well written story is a fascinating look back to the earlier days of computers when standards were just starting to emerge, wireless connectivity was cutting edge technology and the search capabilities that exist today could only be dreamed of.
If you have enjoyed this post please share it with others using the buttons below. Please let me know how you have found out about women in computers by leaving a comment.